Dark ginger cake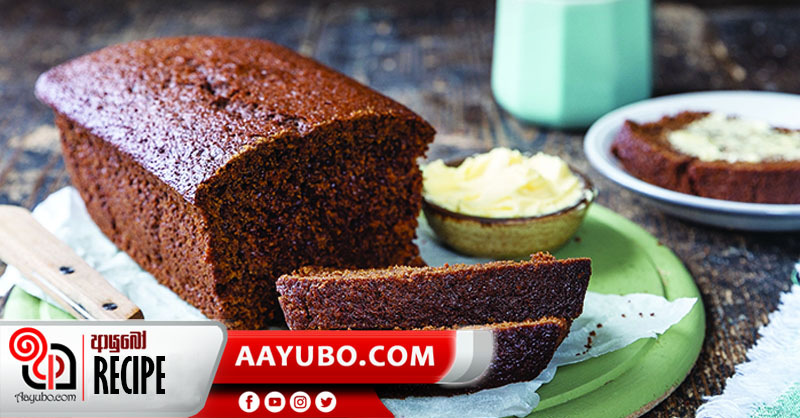 This delectable & rich ginger cake is the perfect treat for an evening snack. You can serve it with a cup of tea in the afternoon or even for a special occasion. All will love a homemade ginger cake. Make it according to the given instructions so that this cake will be as per the original. So try it...
What you need,
- 175 g treacle

- 40 g sugar

- 75 g butter or margarine

- 175 g plain flour

- 2 teaspoons of ground ginger

- 1 teaspoons of mixed spices

- 1/2 teaspoon of bicarbonate of soda

- 2 eggs

- 100 ml milk (buttermilk if possible)

- a few pieces of crystallized ginger or ginger preserve For the ginger creme au beurre,

- 2 egg yolks

- 75 g caster sugar

- 4 tablespoons water

- 175 g butter

- pinch of ground ginger or mixed spice
How to prepare,
Grease and line a 23 X 13 cm (9X5 inch) loaf tin. Put the treacle, sugar and butter or margarine into a pan and heat gently until melted then allow to cool slightly. Sift the flour, ginger, spice and bicarbonate of soda into a bowl and mix. Make a big well in the center of it then add the eggs and milk or buttermilk and the melted treacle mixture and beat until smooth. Pour it into the tin, place in a 160 celcius or farenheit 325 preheated oven and bake for about 1 1/4 hours or until a skewer inserted in the centre comes out clean. Turn out on to a wire tray and leave until cold.

Then wrap in a foil and store for at least 24 hours before eating. For the creme au beurre, Beat the egg yolks in a bowl until smooth. Put the sugar and water into a pan and heat gently until the sugar dissolves, then boil steadily until the syrup reaches a temperature of 107 celcius or 225 farenheit on sugar thermometer. Remove from the heat and immediately pour on to the egg yolks, whisking well all the time. Continue to whisk until very light and fluffy. Cream the butter until soft and gradually beat in the egg and sugar mixture. Flavour with a pinch of ground ginger or spice and spread or pipe over the top of the cake. Decorate with pieces of ginger or ginger preserve. You can keep this cake wrapped in a foil in the freezer upto 2 months.
by Kaushalya De Silva
Photo source : Internet
302 Views